Aug 25 2010
"Ready To Learn Mom" with Stacey Kannenberg Radio Show at 10 CST/11 EST every Wednesday!  Join us on 08/25/10 with Fantasy Trilogy Author of the Everland Foundation by Ricardo Amado who is not only an amazing author and dad but also a twice-deployed Iraq soldier.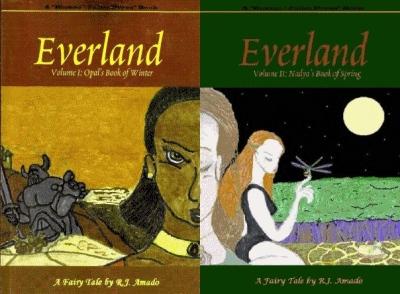 "Everland Volume I:Opal's Book of Winter" is the first installment in an all-new fantasy trilogy by fantasy author and twice deployed to Iraq soldier R.J. Amado.
Four teenage girls escape from a miserable foster home existence to a world where anything is possible.
Nadya has always dreamed of being a Nature Princess, whatever that is. Opal would settle for a castle with a moat and a matching prince to accessorize with her wardrobe, while Crystal would give anything to be a pretty knight in pink armor. And Sam would just like to be left alone.
Then one night, a genie-like being offers to whisk them away from their decrepit foster home for a whole year to a place where their most deeply treasured fantasies can come alive. No catches, no questions asked, no strings attached. Well, sort of…
Because upon arrival, nobody told these four ordinary girls that among other things they would be pursued by a mysterious Black Knight's horsemen; imprisoned by a bad-tempered King Bear with an infestation problem in his Enchanted Forest; and going up against a Fairy Colony with militaristic ambitions.
R.J. Amado invites YOU to join Opal, Sam, Crystal and Nadya on an unforgettable one-of-a-kind fantastic journey that is quite unlike anything else you will ever experience. Because when making it through the year means no less than coming home together, nothing else matters.
"Everland Volume I: Opal's Book of Winter"
It's only the beginning!
And coming this Summer 2010…
"Everland Volume II: Nadya's Book of Spring"
There's no turning back.
Join the Everland Foundation on Facebook at:  http://www.facebook.com/group.php?gid=58439601923