Aug 24 2010
When I was asked to review the ISafeBag (www.isafebags.com); I could hardly wait to receive it.  It was invented by an entrepreneur in the Chicago area after he heard a news story about a woman walking on the street at night who was raped by four guys.  He was so upset by this story that he decided to do something to help protect women and kids from abductors, muggers and rapists…and even your run-of-the-mill school yard bullies!  I love that he was inspired to take ACTION!!!
Essentially, the ISafeBag looks like a regular backpack but underneath a flap on the right strap is a rip cord that, when pulled, activates a LOUD alarm (equivalent to a car alarm) and a strobe light.  It will sound for two hours so it's also wonderful for campers or hikers who are lost.  It works on two nine volt batteries and the weight and price of this back pack is similar to any other back pack BUT this offers PEACE OF MIND!!
Ironically, on the day it arrived, I had received an email alert that an alleged kidnapper was on the loose in our tiny community. I am not kidding! The alert contained a picture of a man who looked very familiar as someone we had all recognized as seeing before in our small town.  I work from home so I turned on our home security alarm.  When it was time to walk down to the mailbox, our lovely babysitter and neighbor (who we all love like a family member) Amanda (Photo by Heidi Kannenberg) wore the ISafeBag Sling Bag and pulled the ripcord.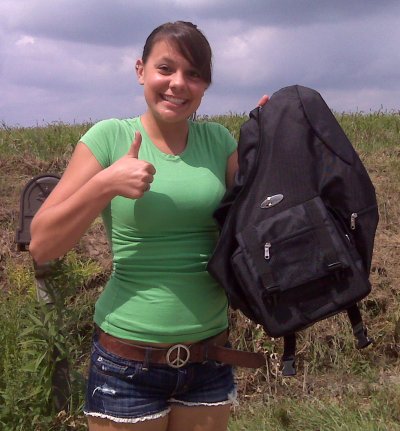 It's LOUD and will definitely scare away a predator and get attention!  My girls reminded me that it will also scare away the coyotes who have been getting braver and braver, and the recent black bears that have been seen in our neighborhood too!   I just reminded the girls that it was not a toy, but a tool. 
So the ISafeBag isn't just for back to school for kids and college students; it's perfect for traveling, hiking, camping, biking and other outdoor adventures, the zoo, the park, shopping and any place you need a little extra PEACE OF MIND! 
We all love the ISafeBag!  Please share it with your loved ones too!
Smiles – Stacey
DISCLOSURE: I received a complimentary ISafe Bag for this review. No other compensation was provided.