Nov 06 2009
iCurfew is basically an easy way for kids and parents to check in with each other, remotely. Kids use iCurfews to send their location to their parents in an email.
iCurfew is also great for parents who may be worrying about if their kids are where they say they are, and a great way to 'pick me up here mom!'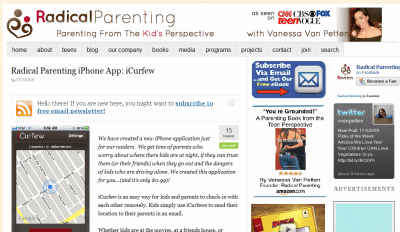 App Features:
Email up to 3 contacts with currently location.

Link sends parent to Google Map showing current location.

Easy for kids to use, just hit a few buttons.

Customize message template. Kids can add their own message on pick up time, change of plans, etc.

Kids can easily send their location to parents picking them up from sporting events and concerts.
Comments Off
Leave a Reply
You must be logged in to post a comment.