Oct 29 2009
We had Lorie on our radio show and congratulate her on FOUR magazine spreads (!!!) – on sale now at your favorite supermarket and win her contest from Good Housekeeping Magazine!  Below is a note from Lorie: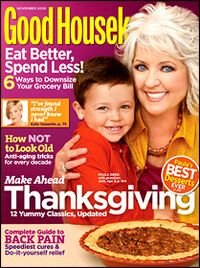 I had to mention to my beloved blog readers to check us out in FOUR magazines this month! They are November issues but they come out in October, so they are all on the newsstands right now. When you're checking out at the supermarket, you can thumb through and find me!

Nov. Better Homes & Gardens, page 78 (cover headline "12 Smart Ways to Organize Your Closet"- also features our product, the Simple Division® Garment Organizers)
Nov. 1, Family Circle, page 147 (cover headline: "Declutter Your Life")
Nov 3, Woman's Day, page 100 (cover headline "5 Clutter Busters- They'll Surprise You")
Nov. Good Housekeeping, page 180, "21 Ways to Make an Entrance" (about entryways)

Also note– I am doing a contest with Good Housekeeping right now where the big winner gets me in his/her house for two days with $1000 of products from the Container Store. Enter the contest here at http://budurl.com/ghclutter. Other prizes include memberships to our program, phone consultations with me, and autographed copies of my book The Clutter Diet: The Skinny on Organizing Your Home and Taking Control of Your Life. The contest entries close on November 30, 2009.

I hope you like the articles! Thanks for sharing my joy!