Oct 23 2009
Janis Bowers has parlayed her talents as editor and publisher of the web-based menu planner, "The Dinner Spin," into a new cookbook.  A rich assortment of straight-forward recipes and cooking tips are the soul of this new collection of recipes.
Suitably named, Simple Everyday Favorites, the new book is designed for cooks of all levels and offers delicious meal inspiration on every page.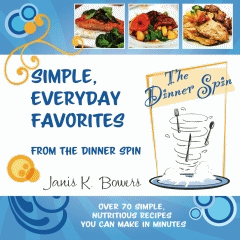 Homespun fare is making a strong comeback, says Bowers. The economy continues to dip and obesity rates continue to rise leaving many families getting back to the basics of home cooking to resolve both issues.  These hurried home cooks are looking for easy-to-prepare recipes and cooking tips to pack a healthful punch that balances budgets and diets simultaneously.
Bowers believes that cooking and eating should be fun as well as provide an emotional and nutritional boost.  The uncomplicated recipes in Simple, Everyday Favorites reflect a no-fuss attitude that helps families find time to fit in a home-cooked meal which experts say is critical in building a relationship between family members.
For more information, visit http://www.thedinnerspin.com/.