Jul 02 2009
Empower the kids to be involved in packing and planning and being a part of organizing your trip!
Purchase small travel-size dry erase boards and plan some activities using them such as:

The Drawing Game:  draw a cow, draw an octagon, draw a car, draw the number 48, etc.
The True or False Game:  Have kids put a T for True or an F for False to a series of family questions such as:  Grandma Martha used to drive a motorcycle; Aunt Beth is adopted; You have 4 first cousins; etc.
The Person, Place or Thing with 10 clues Game:  Select a category between, person, place or thing and write down the answer and have the kids ask clues to figure out the answer.  For example – for a person, the kids might ask, do I personally know this person or is it someone famous?
The Yes or No game:  Ask questions and the kids will write yes or no – Do you like pizza?; Would you like to scuba dive someday?; Might you be a teacher?; Sail the ocean?; Travel to the North Pole?
Perfect for Tic-tac-toe and hang man games!

Bring books for quiet time reading for the kids to enjoy.  Set the timer and tell the kids it is quiet time to either take a nap or read! Of course our books are perfect for kid fun or playing school or teacher in the car:  Let's Get Ready For Kindergarten!, the Spanish/English of iA Prepararse Para Kindergarten! or Let's Get Ready For Kindergarten!
Bring travel-size colors and a coloring book with a tray to do activities!
Purchase blank books in the dollar bin and create travel journals documenting the trip.  Purchase some vacation-themed stickers and allow the kids to either use the camera to take some pictures or get them cheap disposable cameras that they are in charge of using!
Print off the computer start and stop maps to where you are going and let them draw points of interest that they have seen along the journey!
Bring electronic devices, if they already use and a DVD for movie time!
Bring prepacked healthy snacks ready to go to keep the kids happy!
Crank up the radio and sign along together to your family favorites!
Share family stories about how they will be seeing on the trip or about how Mom and Dad met, some of the things Grandma and Grandpa used to do and stories when Mom and Dad were kids!
Pack travel-size cold water for the kids, put them in pull-ups to avoid accidents in the car seat or plane, bring wipes for quick clean ups and toilet paper for emergency stops!
 Have an extra change of clothing with easy access as well as favorite stuffed animals and blankets to encourage sleep time.
 Count to 25 by finding 25 white cars; 25 red cars, trucks, cows, etc.
 Before you leave home, guess the number of VW Bugs you will see along the way or Smart Cars or Windmills or flags and start counting.
 Play "I Spy" something red, something red, white and blue or something moving, etc.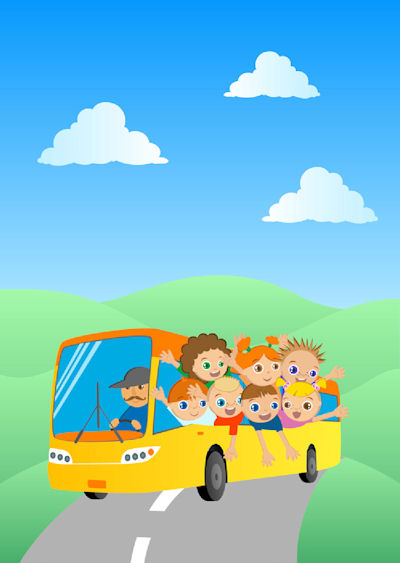 Happy traveling with kids!
Comments Off on Let's Get Ready for Some Trip Tips to Make Vacation a Blast!