May 26 2009
Lorie was the cover story in April's Good Housekeeping Magazine with her amazing Clutter Free Approach to life and her mission to give us all a Clutter Diet!  http://www.clutterdietblog.com/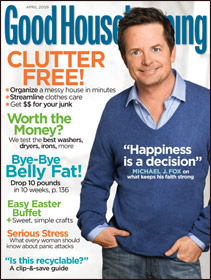 I don't know about you, but clutter is the bane of my existance.  With a husband and two little ones, we battle the clutter battle daily – kinda like battling the bulge, if you think about it!  Lorie has been a fabulous inspiration for me, and has sure helped me keep with the clutter diet – especially with all of those papers the girls bring home from school!
Lorie has been kind enough to allow me to post links to her free handouts to get yourself organized….I'll let you go look at all of the other great (and FREE) forms she offers, but the one that really caught my attention was her "Note to School" form:  http://www.clutterdiet.com/handouts/notetoschoolform.pdf.  Just think of how much time printing this little form off will save you, when you need to correspond with your child's school and teachers!
You can also get a free copy of Lorie's "30 Ways to Find Time to Get Organized" report, if you sign up for her eNewsletter here:  http://www.clutterdiet.com/free_report_signup.php
For more information on Lorie and The Clutter Diet, please visit:

I can't say enough good things about Lorie and The Clutter Diet and her blog - or about how much my house has been becoming clutter-free.  LOVE IT!