Oct 10 2008
There's nothing sweeter than the sound of music sung by children.  Of course, I love music of all types, but when I hear my girls singing, it just melts my heart.  It is my honor to share the sweet sound of music with you, through the Second Annual Universal Music Day!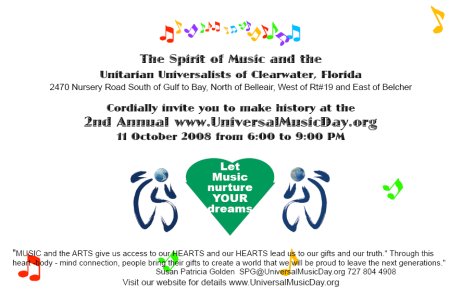 The Spirit of Music invites YOU to Celebrate Universal Music Day the 2nd Saturday of October Annually Music takes people to that energized and inspired place where great things happen.  –SPG November 2007
Email:  info@UniversalMusicDay.org                                   
Phone: 727-804-4908
Come — Be a Part of a World Wide Sound Wave And experience YOUR community through Music While making History at the Second Annual
Universal Music Day "ESSENCE of ESSENTIAL"  Saturday, 11 October 2008
Live Music 6:00 to 9:00 P.M. presented at the Octagon Art Center, 2470 Nursery Road, Clearwater, FL 33763.
Visit web: www.UniversalMusicDay.org for more info!
PLEASE POST and invite YOUR Community TO JOIN US