Jun 30 2008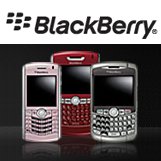 Oooh laa laa, I am in love! 
I know, I just said that the other day – but, that was for a drink and this is something else entirely!
Need we mention how technology-challenged I am?  Again?  I'm a boomer-mom who has always struggled with technology.  
But, in today's wireless world, a business woman *must* stay on top of her businesses, especially when she travels!  The laptop is always so bulky for me to lug around, so I've been excited about the Blackberry, but nervous that it would be too advanced for me. 
I will readily admit that I had a bit of a learning curve, and my most important error in not understanding that my home and business phone company is NOT the same as their wireless division.  I wasted three days BEFORE someone finally told me to physically go to one of their stores to get it all set up. 
I felt like a star when I realized that I knew more about using my new Blackberry than the manager, his customer service manager and the sales representative at their store!  I called my computer guru, Eric, who came over and set up my email to download from my Gmail account and "ta da" we are in business. 
I love it! 
I love being able to have a quick visual of what's coming in on email when I am traveling and away from the office and this is exactly what I needed and the more I use it the quicker I have become!!!!
Ok ok, enough of my love-gushing.  You want specifics?  I have the THE BLACKBERRY PEARL 8130 smarphone.  Small.  Smart.  Stylish.
Hey, that describes ME, I'm sure!  lol
And here's a bit more info about my new Blackberry:  There is a large community of developers building applications for the BlackBerry platform to meet the varying needs and personalization requirements of BlackBerry users.  Solutions offer added functionality to BlackBerry users in a wide range of categories such as:  Business and professional – Access the applications and information needed to make important decisions quickly. Whatever the business there are hundreds of applications and services designed to help, including fleet management applications that take advantage of built-in GPS.   Personal productivity – Translation tools, dictionaries, password keepers, GPS-enabled navigation and much more – these productivity applications are designed to save time and make life easier.   Games and entertainment – Download games and carry them on the BlackBerry Pearl 8130 smartphone. There's no better way to relax when there are a few minutes to spare in the waiting room or on a long flight.
You jealous yet?  Go visit www.blackberry.com – and find your true (phone) love!