May 15 2008
The Kannenberg family is wild about Kellogg's new Wild Animal Crunch.   I'm wild about 17 grains of whole grains and we are all wild about animals.  We are daily cereal lovers in our house and have even been known to have it for dinner!    Megan isn't happy until she has her bowl of cereal in the morning.  In fact, when she was three she became a cereal mixer!  Yep she loves to mix her three favorite cereals together in one bowl.  She's on to something and has Mike hooked on it too!!!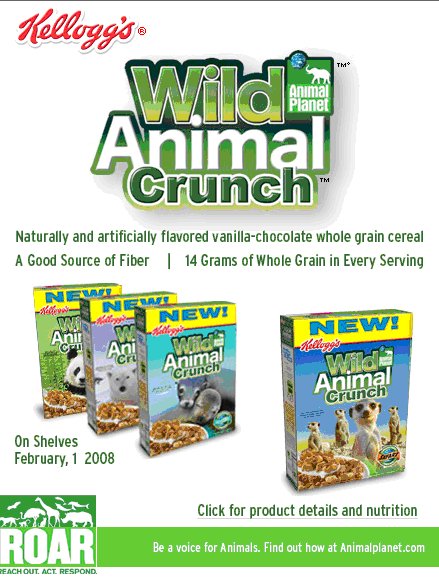 This morning, she had Wild Animal Crunch with Pops and Cracklin' Oat Bran sprinkled on top!  I only let her mix three kinds at a time – you have to draw the line somewhere!!    Heidi is a dry cereal lover with milk in a cup and she started today with Wild Animal Crunch.  The girls were seated so one could see the front of the Wild Animal Crunch box and the other could see the back, and they keep switching.  We all love the box designs!!! WOW!!!    Check it out at www.kelloggs.com/promotions/wild-animal-crunch 
Have you tried Wild Animal Crunch, yet?  What's your breakfast favorite? Does your family get wild for cereal?  Do you perfer to eat it dry, mixed, drowned in milk? Share your favorites!
Copyright 2008, Stacey Kannenberg, Cedar Valley Publishing, Author of Let's Get Ready For Kindergarten! and Let's Get Ready For First Grade!