Apr 30 2008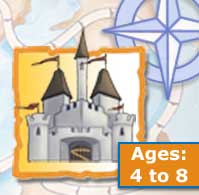 We love birthdays in the Kannenberg household!  Every year we have so much fun planning them with the kids.   Because both girls have June birthdays, they usually are within the last weeks of school.   So, we have always made them big parties with no gifts and have invited their entire classes.   We have had roller skating, pool time, beach time, bowling, gymnastics, dance and make-up parties in the past.  Last year, for Heidi's golden birthday (8 on the 8th) we rented a limo for a park and pizza party and then had a sleepover with twelve little girls.  Believe it or not, the limo party was by far the least expensive option because we limited it to twelve girls, rather than inviting their entire class to the party.  We have yet to decide this year's theme. 
For those of you looking for a great birthday idea, check out giftventure.com to make finding your gifts a grand adventure.

Heidi and Megan had a gift adventure for Easter.  They received three letters from the Easter Bunny.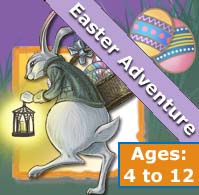 In the first letter they found the missing eggs for the Easter Bunny, and then were asked to post the letter on the window for the birds to take their message to The Easter Bunny.  Ironically, the girls made friends with a pair of Cranes last year and to our surprise and the absolute delight of the girls, within minutes of taping their letter to our window, the Cranes came back for the season and landed in our backyard to nest again.  The girls were so excited and knew that the Cranes would take their message to The Easter Bunny.  The second letter had another activity for them, after its completion, they were then instructed to tape it on a window low to the ground for the Easter Bunny's friend, the worm, to take to the Easter Bunny.  Finally the last letter was in code.  Once the girls broke the code—they found their Easter Baskets.
Here our 6 of my top tips for making parties fun:
Involve and empower the kids in the process and try to pull off some sort of surprise, as well.    Heidi and Megan were involved in the planning of Heidi's Golden Birthday, but the limo was an absolute surprise!!!
Have an activity were the kids make something to take home, or plan a treasure hunt where they find party favors to take with them.  We have done little gift bags filled with non-candy items like little notebooks, stickers and markers for journaling, or lip gloss, nail polish a fingernail file for girls, and Matchbox cars for boys.
Invite parents to come and attend as well.  Kids love to have their parents along for some family fun, too.  It's great to see Mom and Dad on roller skates and having fun bowling!
Make it more about the fun rather than the gifts.  Our girls have opted not to have presents so that they can invite all the kids from their class.  We have called it an 'end of school celebration' rather than a birthday party.  We still have cake and on the invite the girls say they would rather celebrate their birthday with an end of school celebration, rather than have gifts – so please no gifts!!!  We elected to pay for admission for roller skating or bowling, but most places will give you a discounted rate, a perk that can be written right on the invitation.

Shop after holiday sales for discounted toys, decorations or party favors.  This past Christmas, we found Idogs that were regularly priced at $39.95 for $9.95 and I purchased six of them, and Barbie MP3 players that sold for $79.95, and I paid $20 on Amazon.  I stocked up on them and put them in a bin for birthday gifts.  This year the girls can either give an Idog or a Barbie MP3 player, and they get to select which one to give for each party they go to. 

The girls love that we are exposed to many new products via www.momcentral.com that many of their friends have not been exposed to.  This year they have requested Froose (www.froose.com – see earlier post) and Breakfast Breaks, (which I will be announcing more about in a future post – if you like the Jonas Brothers, stay tuned) two of their favorite new products of 2008.  So, they have asked if we can give away Froose and Breakfast Breaks in their gift bags.  They love to rave about testing products and are obviously immersed in this reviewing process, as well.   Heidi and Megan told me, they are already dreaming about inventing the next best thing!!!  My answer….'You go girls!'
What do you do to make your parties uniquely yours?  Found any truly fantastic finds while shopping, or have any tips you use to deliver the best surprises?  The kids can't have all the fun… share, share, share! 
Copyright 2008 Stacey Kannenberg, Cedar Valley Publishing, Author of Let's Get Ready For Kindergarten! and Let's Get Ready For First Grade!